April 2, 2019
Capital West Advises Neurio on its Sale to Generac
Neurio Technology ("Neurio") is a leading energy data company focused on metering technology and sophisticated analytics to optimize home and business energy use. Founded in 2005 and based in Vancouver, BC, Neurio offers hardware and software solutions to enable users to manage and control electrical loads, solar systems, and batteries to optimize their energy consumption.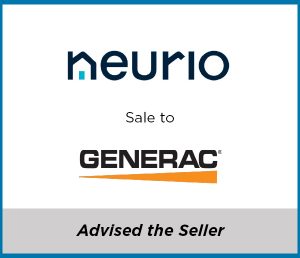 Generac Power Systems, a NYSE-lised company with $2 billion in annual sales, is a leading manufacturer of power generation equipment. Based in Waukesha, Wisconsin, Generac has designed and manufactured a wide range of power products since 1959 and is the world's leading producer of in home backup generators.

Capital West Partners acted as exclusive financial advisor to Neurio on this transaction.
For additional information contact: