February 7, 2017
Capital West advises Vitalus Nutrition on a multi stage financing and recapitalization
Vitalus Nutrition Inc. is a leading supplier of speciality cream and milk protein ingredients for the food, beverage and nutraceutical industries. Its products are used in a wide variety of applications including baking, confections, dairy products, snack foods, infant formula, protein drinks and nutrition bars.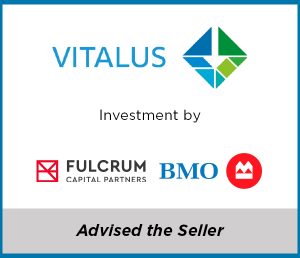 BMO and Fulcrum Capital Partners have partnered with Vitalus management to provide the required capital to support strategic growth initiatives including expanded production of milk protein concentrate, the development of a process to produce a proprietary prebiotic fiber and the construction of a new facility for production of specialized dairy ingredients.

Fulcrum Capital Partners manages over C$650 million of capital and is focused on investing and partnering with management teams to support growth initiatives.

In this transaction, Capital West Partners acted as exclusive financial advisor to Vitalus Nutrition.
For additional information contact: