December 17, 2020
Capital West Partners Advises the Mainroad Group on its Acquisition of the Cobra Group of Companies
The Mainroad Group is a 100% employee-owned collection of companies specializing in road and bridge products and services. The company was formed in 1988 and has successfully become one of BC's most diversified groups of infrastructure maintenance and construction experts. The Mainroad Group has extensive experience in diverse climates and environments across Western Canada.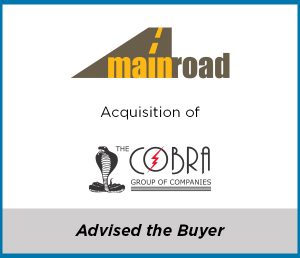 The Cobra Group of Companies provides comprehensive electrical contracting services for traffic management and lighting systems to public and private sector customers throughout BC. Cobra has been trusted to maintain electrical infrastructure on highways and roads within the Lower Mainland since 1984.
Capital West Partners acted as exclusive financial advisor to the Mainroad Group on this transaction.
For additional information contact: