April 30, 2019
Capital West Advises Premier Power on Sale of its Interest in Long Lake Hydro to Regional Power
Long Lake Hydro is a 31 megawatt operating hydroelectric power project located near Stewart in northwest BC. The team from Premier Power are developers and operators of hydroelectric projects and are the initial developers of the Long Lake Hydro project.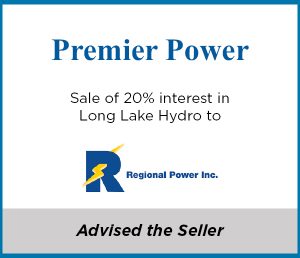 Regional Power is a developer and operator of renewable power projects. Its assets include three operating run-of-river hydroelectric projects in Canada with a combined installed capacity of approximately 70 megawatts and a pipeline of development stage wind and hydro generation opportunities.

Capital West Partners acted as exclusive advisor to Premier Power on this transaction.
For additional information contact: