April 25, 2023
Capital West Advises PI Financial on Shareholder Buyout and Merger with Echelon Wealth Partners
Founded in 1982, PI Financial is one of Canada's largest independent investment dealers, with approximately 300 employees, serving clients from Toronto to Vancouver.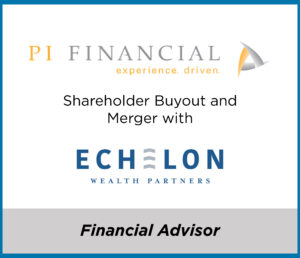 Echelon Wealth Partners ("Echelon") is a leading independent wealth management and capital markets firm headquartered in Toronto and serving clients across Canada.
Capital West acted as financial advisor to PI Financial's shareholder on this transaction.
For additional information contact:
About Capital West Partners
Founded in 1990, Capital West Partners is an independent M&A advisory firm based in Vancouver, BC. As mid-market specialists, we deliver focused financial advice and transaction expertise to public and private companies, as well as public sector entities, in Western Canada and beyond for a range of transaction situations, including:
Divestitures
Mergers & Acquisitions
Strategic Financings
Valuations & Fairness Opinions
Financial Advisory Assignments
Capital West has a proven track record of 30+ years of completing transactions that maximize value for our clients. Since inception, we have completed deals with over $11 billion in combined total value.
Capital West is also a proud partner in IMAP (International Mergers and Acquisitions Partnership), a global organization of highly experienced middle-market advisory firms in over 40 countries. Through IMAP, we maximize our global reach to bring industry and country expertise to every one of our assignments, and to find our clients the best buyers and investors in North America and beyond. www.imap.com